Well, it's the time of year where everyone looks back on the previous year, so I've decided to join the group.
2015 was a fantastic year for me hobby-wise. I fully embraced the concept of the blog, putting up 24 posts during the year. I painted my little heart out. I made it to five GTs and did well in all of them, as well as running my own for the second time. Oh yea, and Warhammer died.
2015 Retrospective
I started January with a quick finish-up and rebasing of my Dragon Cult army from 2014 - just in time to take it to
Waaaghpaca
. I even painted a new, not-yet-seen-online unit for the army.
I got to attend Waaaghpaca for the first time, which was a kick. I started the tournament out with a challenge against former Texan
Davy Calkins
, better known as Red_Zeke on dakka and twitter (he beat me DOWN).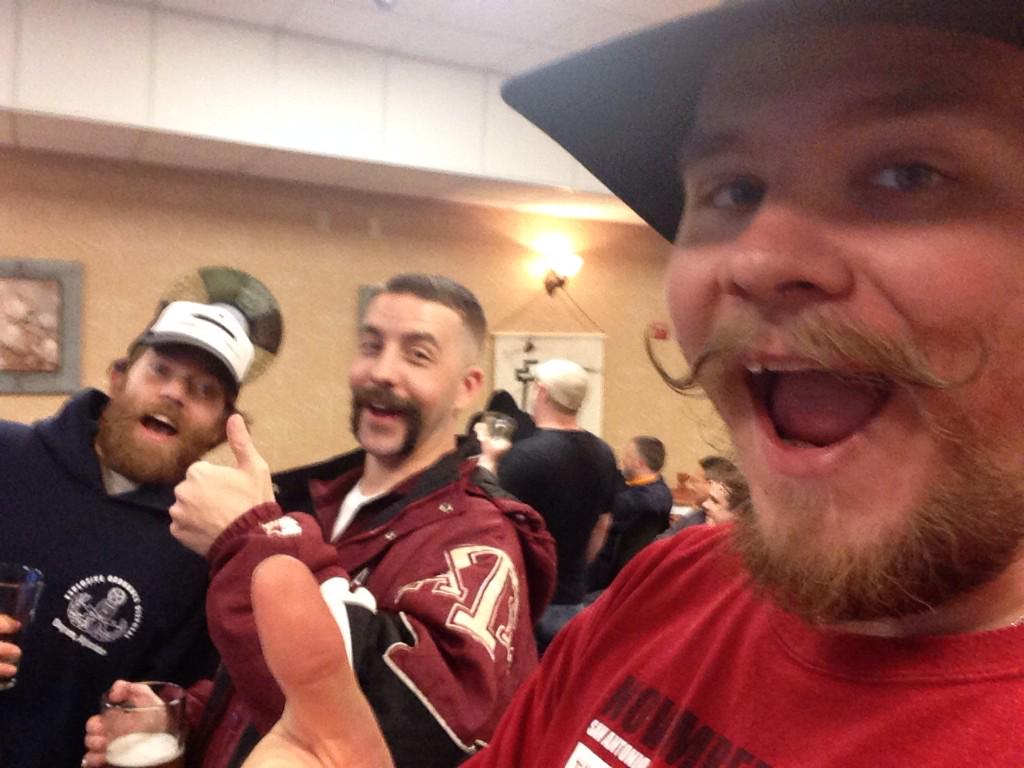 Davy, Mark Cox, and I express joy.
I got to play (and beat)
Dan Grothe
and Roder, two of the best painters in the midwest. I finished top-5 in Best Painted (Roder won first). My Man of Intrigue - one of my dragon ogres - ended up winning the Most Intriguing Large Model award. Most importantly, I got to hang out with the midwest guys for the first time, which was a great experience.
After Waaaghpaca, I broke out an old army - my Ogres of Ulric from 2009 - and touched up their paint. I added a
gorger
, some
mournfang
, a sabretusk, two blocks of dog-themed gnoblars, an Ironblaster, a
Thundertusk
,
Skrag the Slaughterer
, and a
scratch-built
converted
Gorger
to the Confrontation Wolfen I was already using.
I took that army to the
Lone Wolf GT
in Dallas and did horribly (2-3), but won Player's Choice and finished second in Best Painted.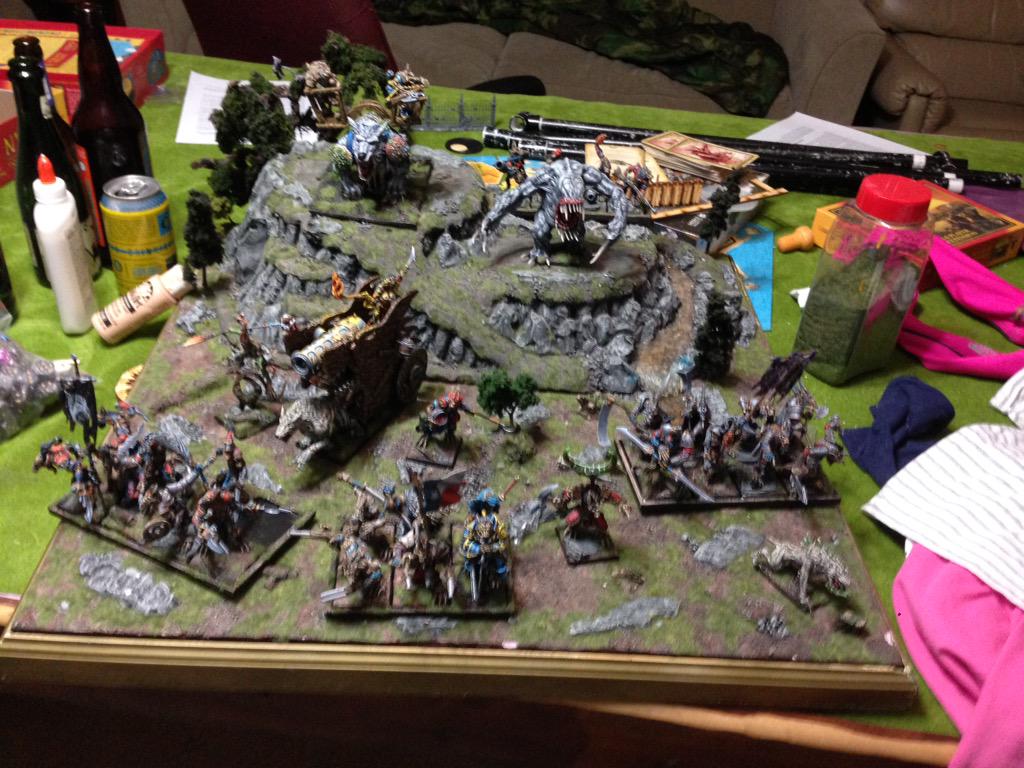 The ogres, boarded up prior to Lone Wolf
In July, my family and I took a trip out to Fort Worth and spent some time with my friends
Jeff Swann
and
Mark Cox
, which would turn into my first podcast:
The Beer Phase
.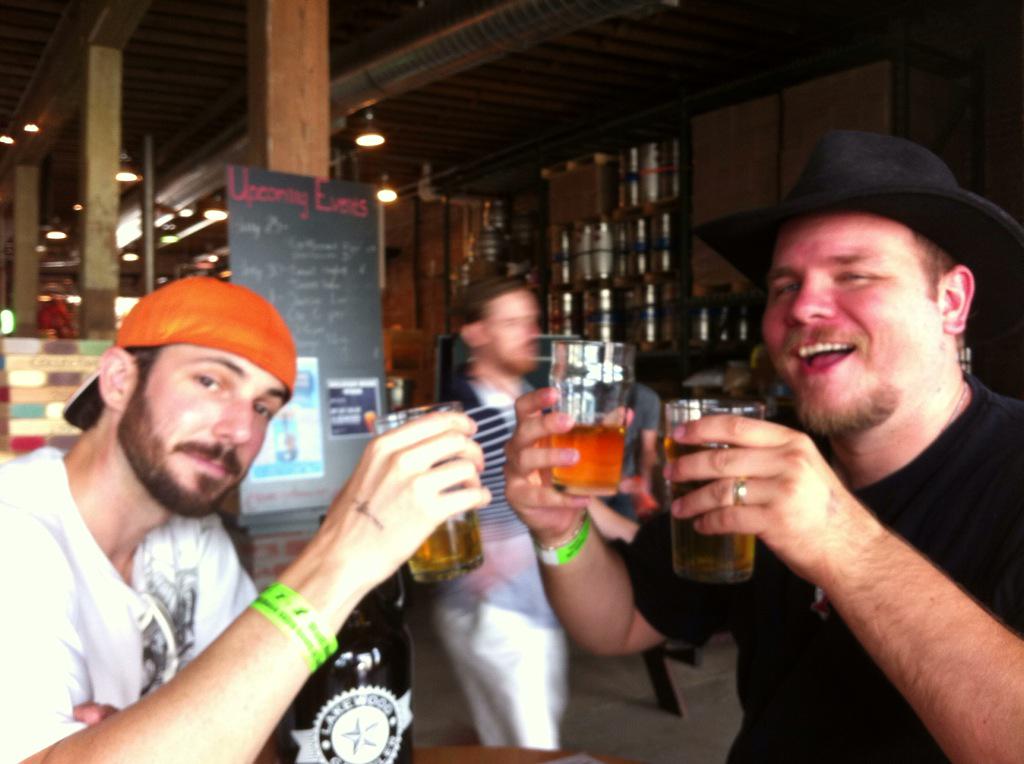 It's like this, but in your ear
After Lone Wolf, I went to the inaugural
Paul's Carnival of Chaos
, where I went 3-2 and finished sixth overall, while adding another Best Painted and 2nd Player's Choice to the trophy rack.
Paul's CoC led right into
Bayou Battles
, where I again went 3-2 and finished fourth overall, and added another Best Painted and 2nd Player's Choice. I had a chance to win the whole thing, but lost Game 5 to Julien Lesage on the last turn in an 15-beer-per-person game of Beerhammer.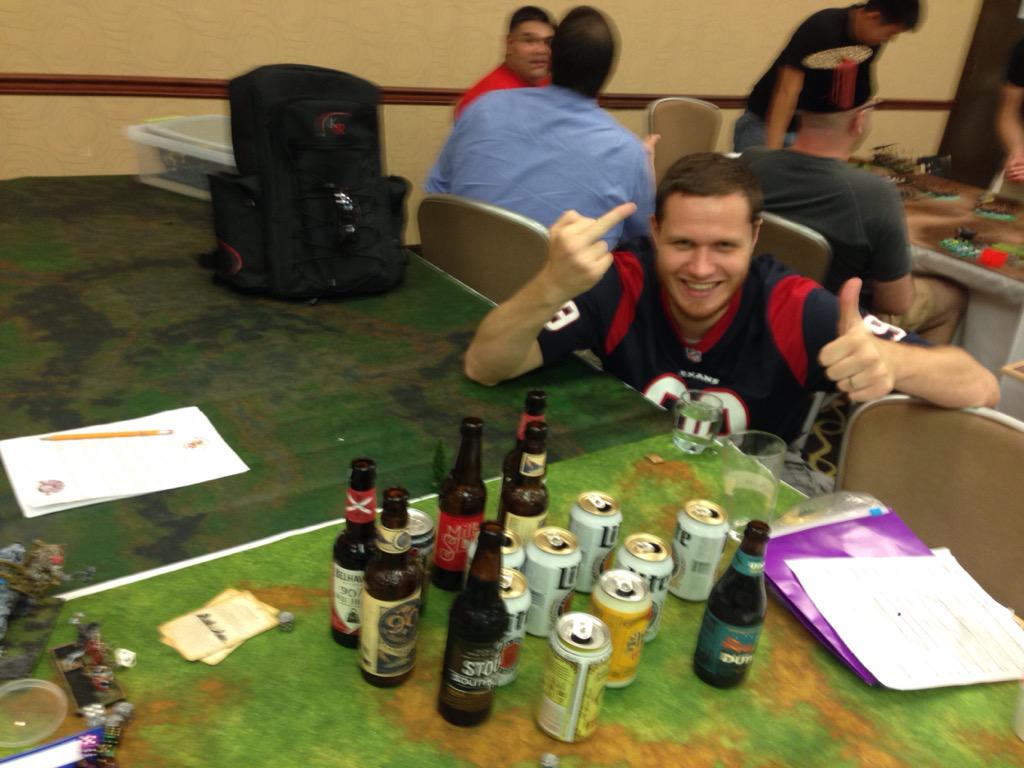 Julien salutes his victory, and my defeat
Skrag and the second gorger joined my army for
Rock Wars
, where I continued the 3-2 streak and this time turned it into 3rd overall, which also clinched my spot as the third seat on the 2016 South region Master's team. In addition, the TOs of the South GTs held a vote, and unanimously agreed (based on massive player feedback) that 2016 would be spent playing Kings of War. I also ran five demos of Darklands during the weekend, which was great.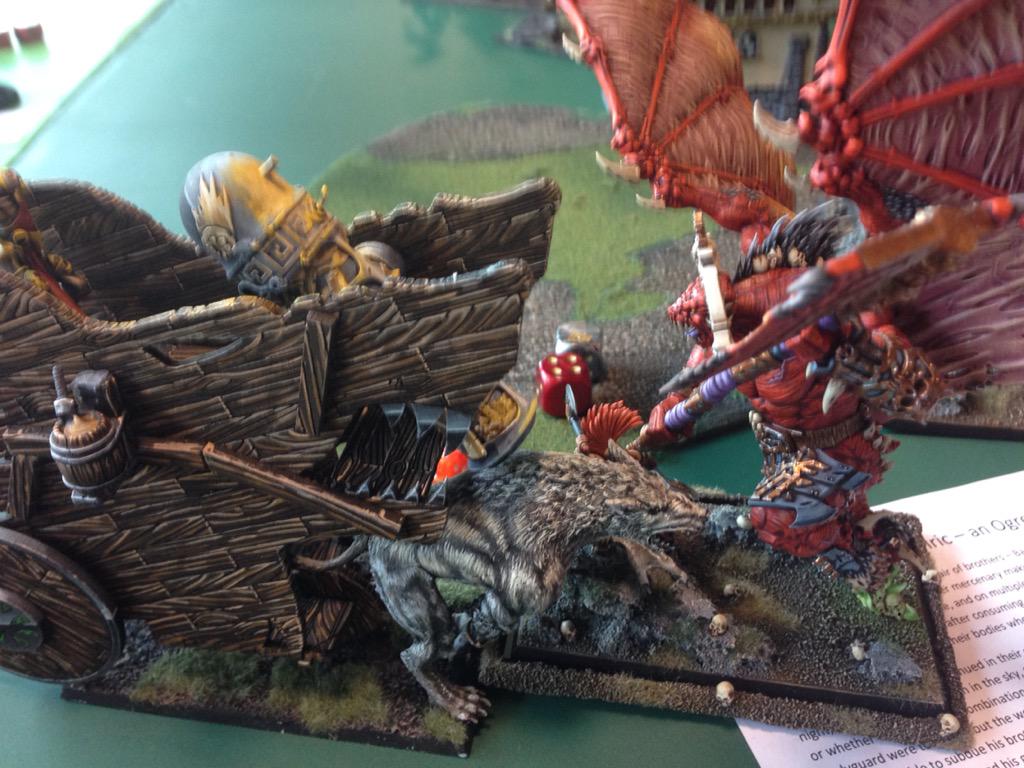 The highlight of Rock Wars: my misfired-cannon Ironblaster charging a Bloodthirster of Insensate Rage and killing it on impact hits
After Rock Wars, I spent six weeks working on terrain for my GT, the
Alamo
. It would be the last Warhammer GT in Texas, and we gave the game the drunken wake it deserved, with two players finishing a bottle of rum (game 1) to highlight the event.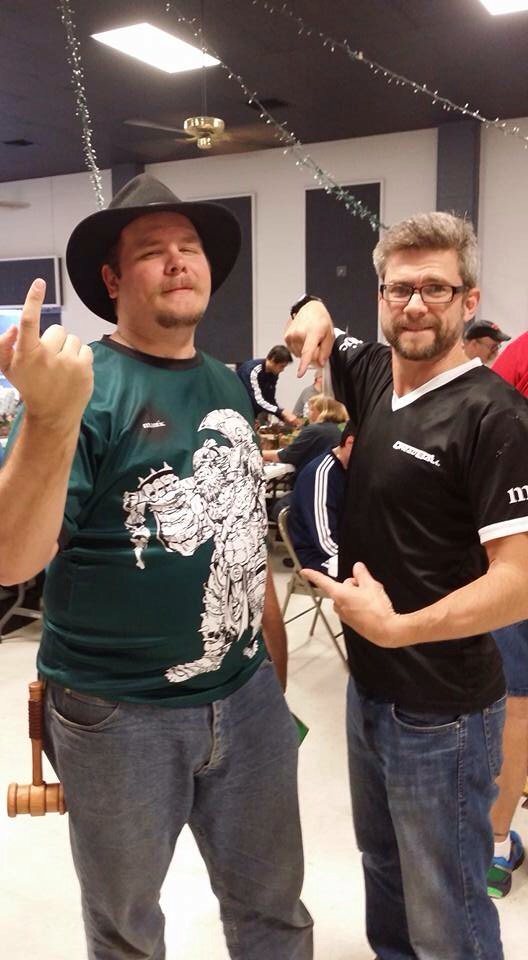 Oh yea, I also got to hang out with Ronnie Renton.
I immediately jumped right back into the hobby after the Alamo, participating in the
Counter Charge
podcast's
Army in a Weekend challenge
, painting 1000 points of Mierce Models into a Kings of War Herd force in 3 very sleep-deprived days.
After two weeks off to focus on family, I got back on the hobby horse and cranked out a Mantic dragon as part of the
Brush With Death: Texas
invitational painting competition to finish out the year.
2016 look-ahead
2016 is going to be a very interesting year for me. I'm probably going to be dialing back my presence on the GT scene, as my personal life is rebalancing itself and I'm finding that I enjoy time with my family too much. I will be participating in the Warhammer Master's at Las Vegas Open, but that will probably be my only tournament out of the state this year (Lone Wolf, Bayou, and Moonshine GTs are the others still on my radar).
I hope to update the blog at least every other week, and more if I can get away with it. Upcoming topics will include:
Building a Kings of War Herd army out of almost entirely Mierce Miniatures (I have a unit of Privateer Press Farrow I'll be using as well).
Adding painted infantry to my Brythoniaid kindred for Darklands
Darklands battle reports, now that the ruleset is locked and the rulebook is close to being on its way.
Actual painting tutorials, rather than just discussing colors.
Discussion of running a Kings of War tournament, as I've already started converting/updating the Alamo GT scenarios to Kings of War scenarios.
Beer?
If there's anything else you'd like to see me talk about, please leave a note and let me know! Do you want an updated post with the scale of Mierce's now gigantic model catalog? Review of beer styles and rankings? Model showcases? Rants and discussions? I write this thing for all of you, so let me know what you'd like to read about!